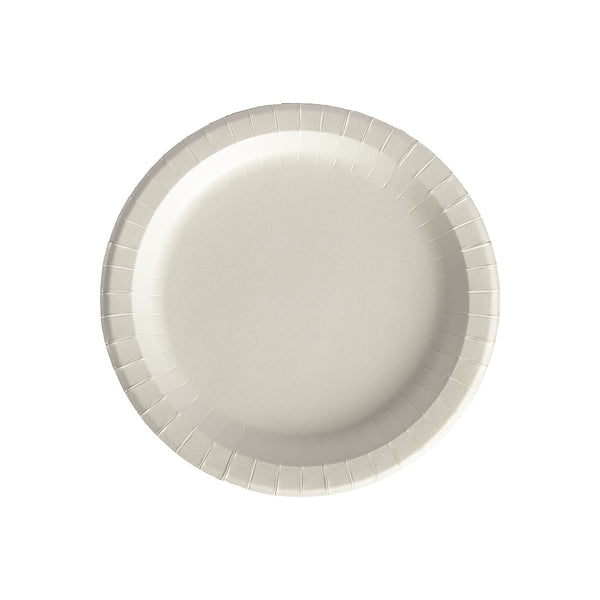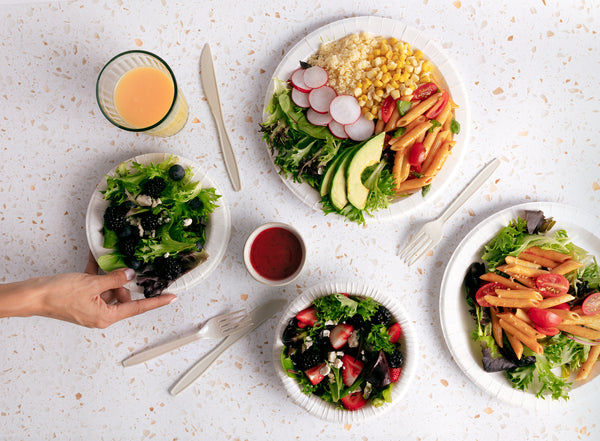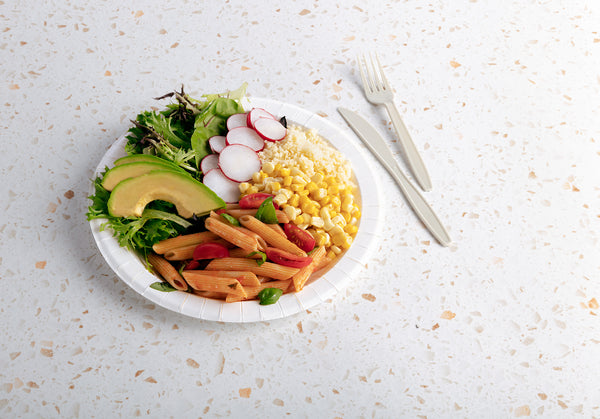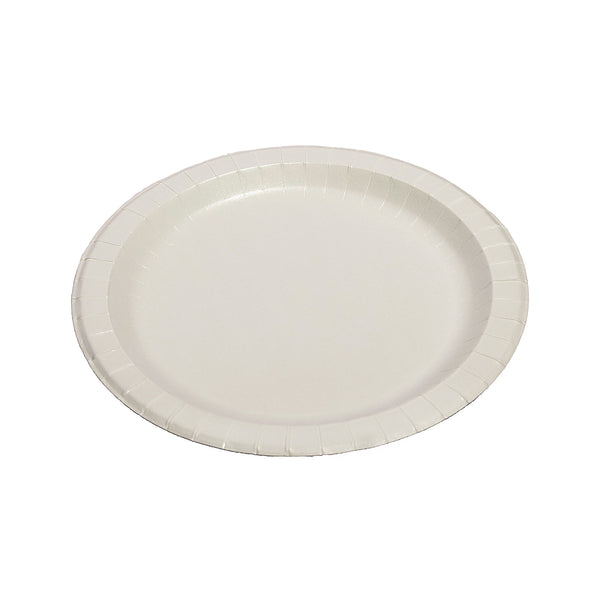 Transitions2earth PFAS-Free Non-Toxic Compostable 9" Round Plate - Package of 100
With the emerging awareness about the dangers of PFAS, Transitions2earth announces Compostable PFAS-Free Plates and Bowls.

We are proud to present to you the Transitions2earth PFAS Free Compostable Plates There has been a lot of media attention (finally!) about the dangers of foodservice products made with PFAS and related chemicals. We are excited to be one of the first to introduce PFAS-Free compostable paper plates and bowls. PFAS builds up in the body and can interfere with the body's natural functions. Too much PFAS in the body can put people at risk of disrupting critical body functions, causing severe side-effects. We care about you and the environment, hence we've produced these products that will not only keep you safe from harmful chemicals but also will protect mother earth.
💯 PFAS-FREE: Transitions2earth Compostable 9-inches paper plates DO NOT contain toxic PFAS chemicals. PFAS chemicals include PFOA, PFOS, PTFE, and other cancer causing chemicals. They add oil and water resistance to paper products. PFAS have been extensively studied. They are very persistent in the environment and in the human body. They do not break down and they accumulate over time. Exposure to PFAS can lead to adverse health outcome. Transitions2earth products DO NOT contain PFAS.

👌 NO TOXIC CHEMICALS IN YOUR FOOD: Most other compostable plates contain toxic PFAS chemicals. Studies show that PFAS end up in your food. The EPA says people are exposed to PFAS from paper plates and that PFAS can accumulate in your body and stay there for years. The EPA has found that PFAS have links to infant birth weights, effects on the immune system, cancer (for PFOA) and thyroid hormone disruption (for PFOS). If you research PFAS you will see how dangerous they are to your health.

👌 COMPOSTABLE WITHOUT CONTAMINATION: Since Transitions2earth PFAS-free products do not contain toxic PFAS chemicals, they do not pollute or contaminate compost. Other compostable plates and bowls contain persistent PFAS that end up in the final compost and then end up fertilizing our food. Since PFAS don't break down this cycle repeats putting more toxic chemicals in our food, even in organic food. Transitions2earth products will decompose safely and won't damage the environment.

💦 WATERPROOF, GREASE-PROOF and OIL-PROOF: As an alternative to PFAS, we were able to produce this product waterproof because of the corn-based compostable surface and it can be used in hot or cold foods. This paper plate is also oil proof and it will not allow even the greasiest food to soak through. These are not made from bagasse, sugar cane, wheat straw, plant fiber or other molded fiber since those contain PFAS. Enjoy your meals and appetizers without toxic exposure.

👍 MICROWAVEABLE, HEAT RESISTANT, STRONG and STURDY: Transitions2earth Compostable PFAS-Free Plates can be used in the microwave without a problem. They are heat resistant so they can be used with hot foods. They are strong and sturdy. Perfect for different occasions such as weddings, parties, lunches, picnics, camping and many more. Useful and portable paper products that you can bring anytime. Travel and eat anywhere without worrying about harming the environment or spoiling your food.
To learn more about PFAS we have assembled these FAQ for you.